A recap of our recent team trip!
Ahoy, matey! Yet another milestone trip is in the books, and we are still reminiscing. It was a time for team bonding, relaxation, and feeling ecstatic about recent accomplishments.
One of those accomplishments we hit was a big one – 1,000 accounts! The team crushed it, and we're already well on our way to our next one. What better way to celebrate than to head back to Captiva Island, just like we did in 2020?! We all traveled to Florida from near and far, including Pennsylvania, California, South Dakota, and Texas.
The beginning of the trip was a bit rocky. The forecast was calling for a nor'easter, and flights were getting canceled left and right. So, we took action! Some of us left a day early to escape the storm, those outside of Pennsylvania left on schedule, and some of us decided to wait it out and left a day late, but we were all determined to arrive in Florida at some point!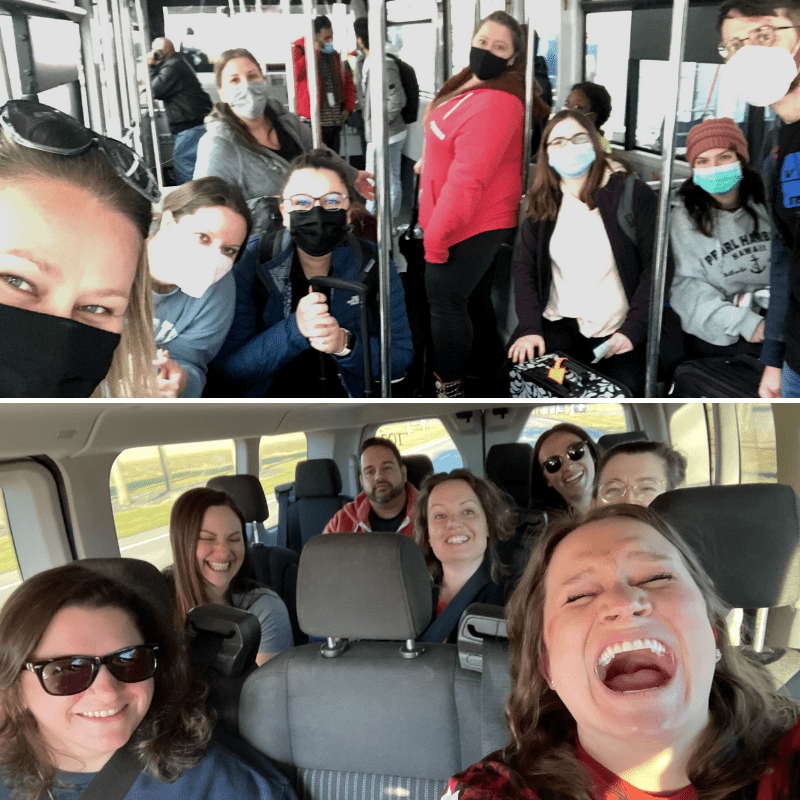 Determined to get to Captiva!
The team was a bit split up, but we got to Captiva all in one piece.
Getting settled in at Sea Oats.
Upon arrival, it wasn't as warm as you would expect on a Floridian island. We must have brought the chilly weather down with us! Good thing we had a fire pit to use right away. We fired that up as we waited to get into the house.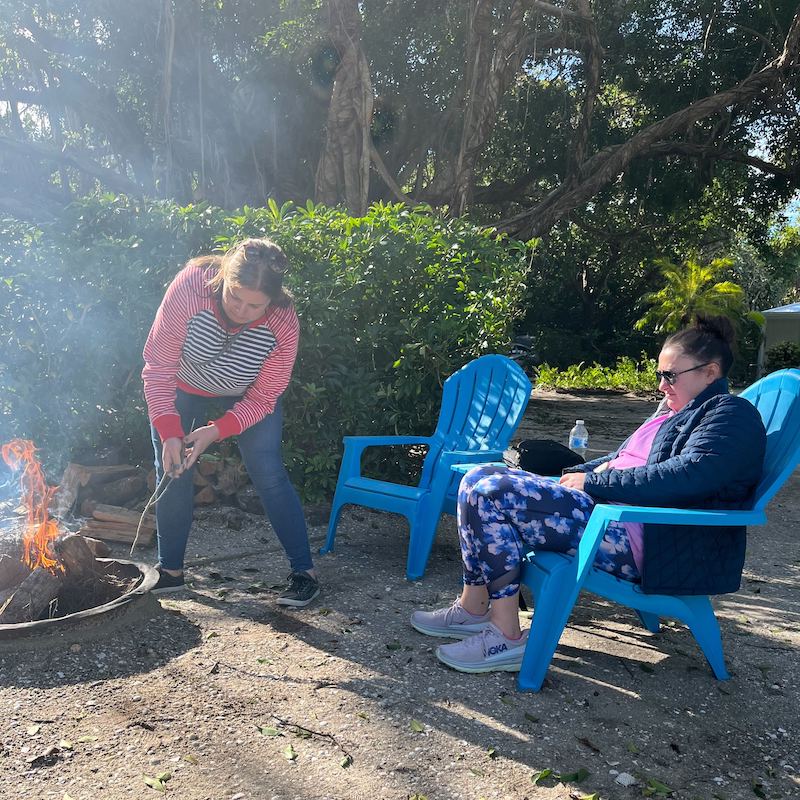 Fire pit fun.
Justine was flexing her camping skills and got the fire started so we could warm up.
After defrosting by the fire, we spent the next couple of hours exploring the property, finding our assigned rooms, and setting up our home away from home.
Our own private resort.
This place is pretty amazing! What more could you want as a home away from home?
A time for fun and a time for work.
Jeff didn't make the trip because he was grinding at a conference in Texas! The entire team was bummed that he couldn't make it but appreciated his hustle while we were having fun in the sun. We even made a cardboard cutout of his head so he could join us on all our adventures! Devon graciously gave up one outfit he packed so that Jeff could look his best as he posed next to the pool for a while.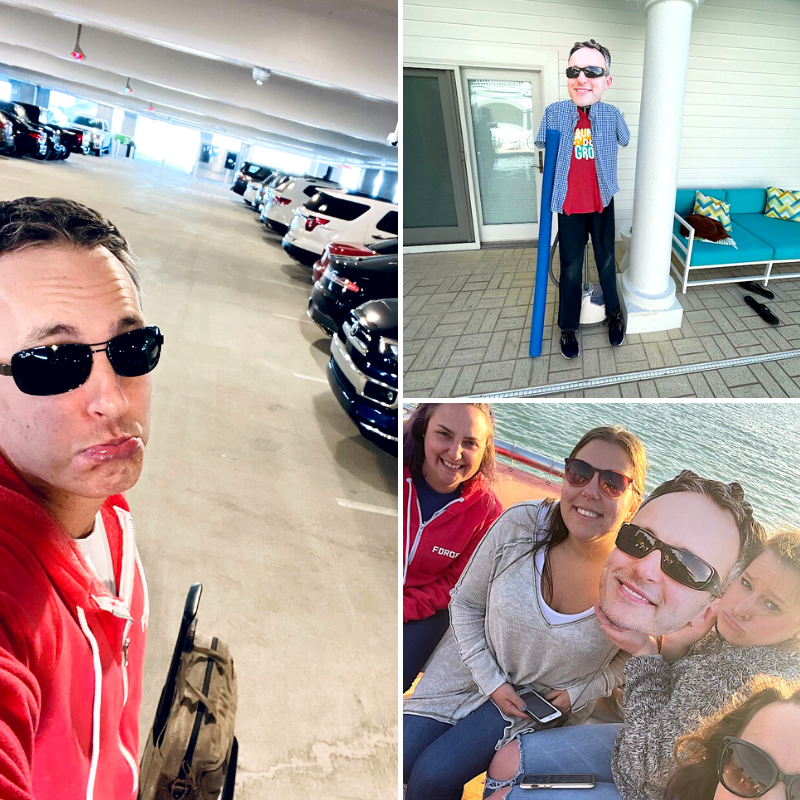 We got creative.
Cardboard cutout Jeff went a lot of places with us! We think he enjoyed his time in Captiva.
Each morning, Ian had his pad and paper ready to take breakfast orders down. Some ate omelets, some had bagels, and others just wanted a nice hot cup of coffee. But, no matter the order, Ian got right on it.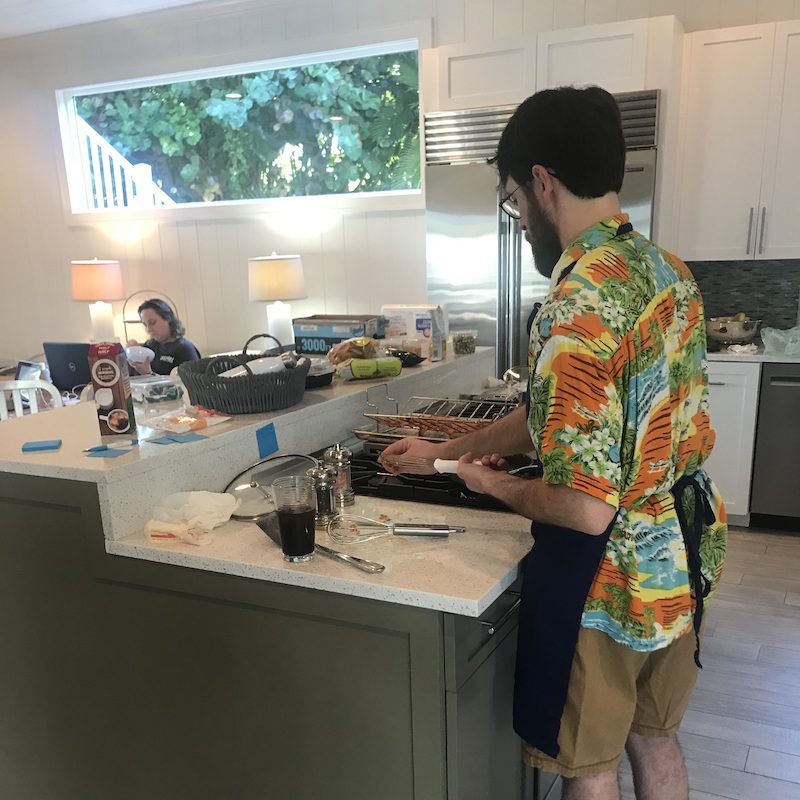 Chef Ian.
Breakfast every morning was a hit! Everyone looked forward to a light meal to start their day on the island.
Activities, relaxing, and more.
We packed in a lot of activities during our stay! Relaxing was on our agenda, but we also snuck in a lot of fun, including kayaking, paddle boarding, fishing, shell searching, sun tanning, bike riding, tennis, ping pong, and a ton more.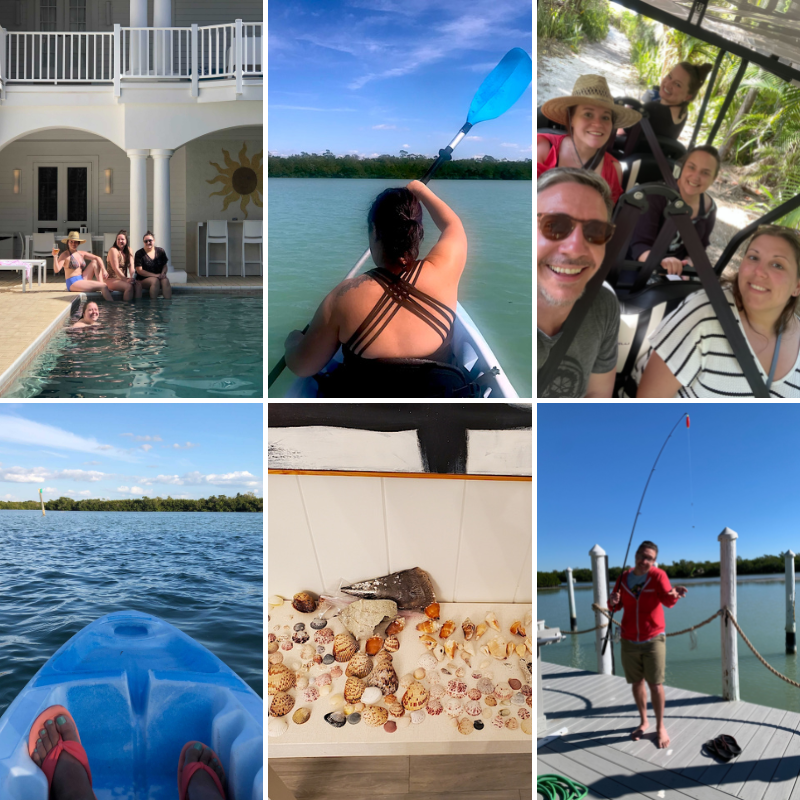 So many fun things to do.
Everyone did a little bit of everything, and some of us got way out of our comfort zone paddle boarding and kayaking with the alligators.
Each night we all pitched in and helped make an amazing dinner. Our head chef was usually Ian, but he had sidekicks here and there. Our menus consisted of pizza, grilled burgers, and hot dogs, pasta, and then some. Once the meal was served, we all sat together at the big dining room table and enjoyed tasty food and great conversation.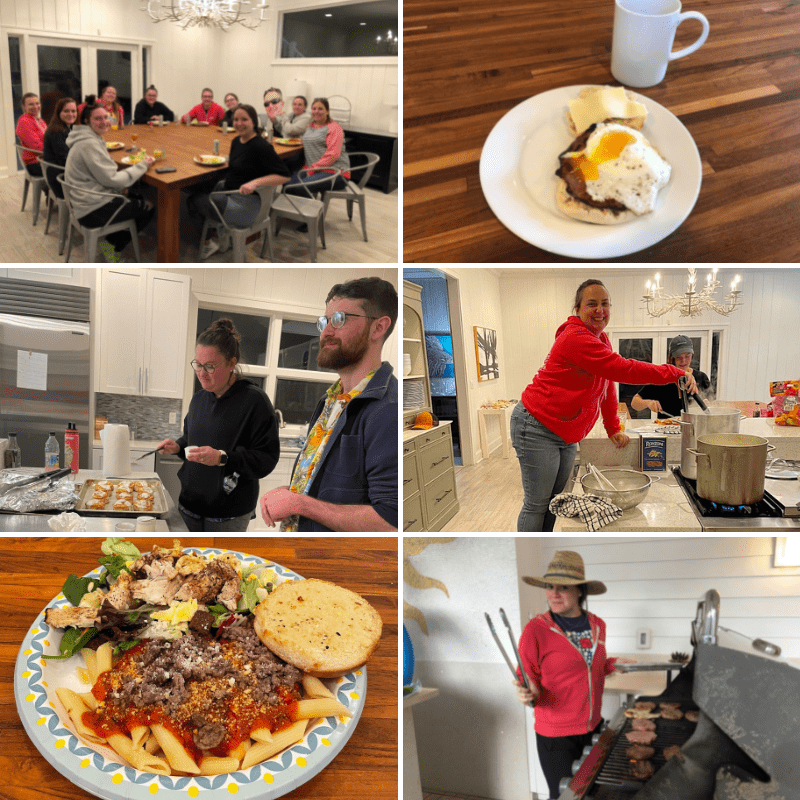 Good ol' home cookin'!
We became quite the chefs in the kitchen! Having a fun meal that we all made together each night was the best.
After dinner each night, we played games until we couldn't keep our eyes open anymore. We were always entertained, from board games to card games and dice games to cell phone games. Our stomach muscles were sore from laughing so hard!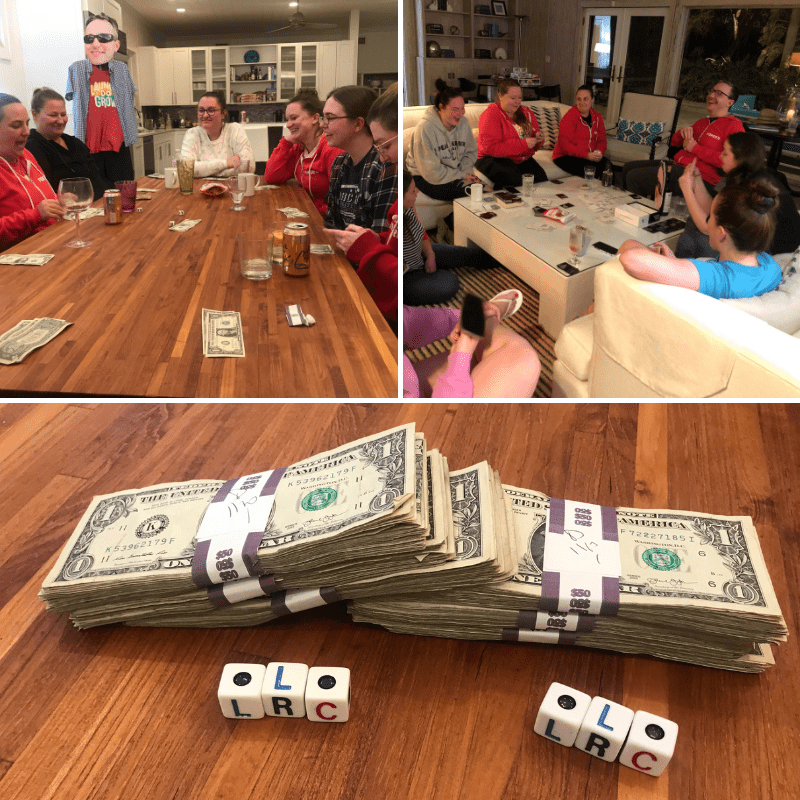 Friendly competition.
Things got a little competitive, but all in good fun. We had some late nights of laughter, that is for sure!
As a remote company, getting to know one another can be difficult. Our milestone trips are not only a way to celebrate our accomplishments, but to also bond with one another. Everyone had their own space, but if they wanted company, it wasn't hard to find. True connections were made throughout the entire team, and everyone went home with a new friend. You can't beat that!
Devon, our Chief Product Officer, said it best. "It's a magical thing when 18 different people from across the country can live in a house together for five days and come out of it drama-free with a deeper appreciation and connection to each other and the company they work for. I'm truly blessed to be part of this team!"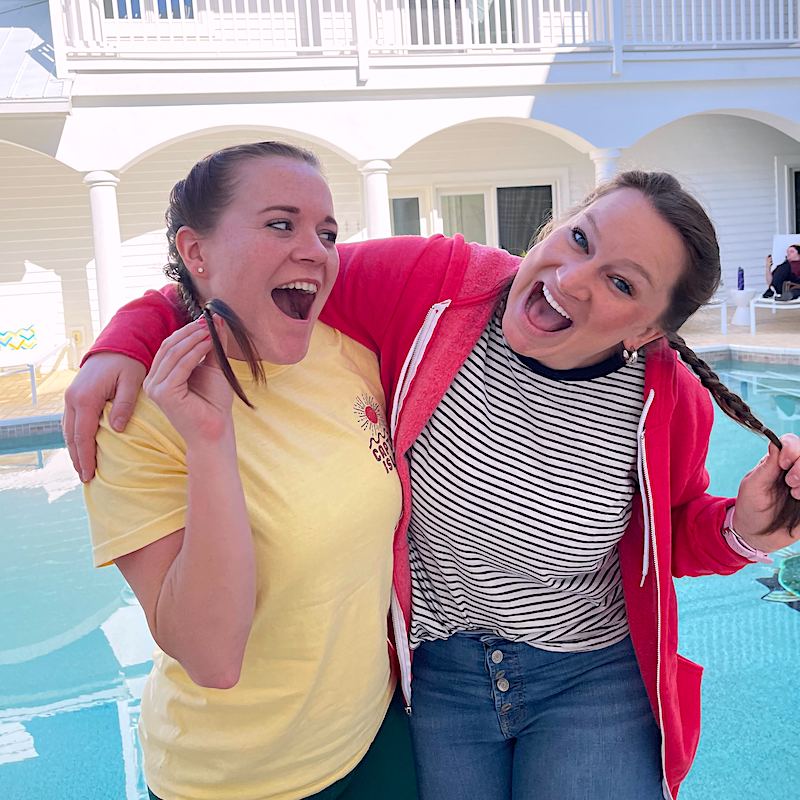 Pigtails for pals.
Alexis and Bethany bonded over their new do's done by Kassie!
A sunset cruise to remember.
We ended the trip with a sunset cruise through the bay and into the ocean. The boat guides shared some interesting history with us along the way! It was a great time for sightseeing and lots of conversation. We all talked about our favorite parts of the trip while jamming out to some tunes.
The sun goes down.
The whole group had a relaxing yet laughter-filled sunset cruise to end the evening.
We had a truly unforgettable adventure with the entire team. We were all sad to pack up and leave the mansion. More importantly, we were all sad to leave each other. We work hard to play hard and are ready to hit our next milestone. Where should we go next?
Until next time.
Ian, Manager of Content Management, spoke for us all when he said, "Being on 'island time' in Captiva let us slow down, reflect, and take account of our company culture. Whether it was exploring the island with low battery golf carts, fishing for seaweed (and Mahi Mahi), or watching the stars on the beach at night, the best part of this trip was getting to know everyone better and feeling a true connection with each and every person on the team."