A look into our May Quarterly Meeting and Top Golf!
The whole crew got together again for our Quarterly Meeting on May 3-4, 2022. We had one full day of meetings and one full day of fun. See what exactly we were up to each day!
Getting the show on the road.
We had some of our team members traveling in from far and wide. California, Texas, South Dakota, and South Carolina, just to name a few. It's great to be able to come together, learn, focus, and have a few laughs!
Airports to rideshares.
Alexis, Michelle, and Mark got lucky, and all landed at the same time. They reunited in an Uber! Off to the hotel they go.
The early bird gets the worm.
When we all arrived at TechVentures in Bethlehem, PA, the next morning, we knew we needed a pick-me-up for the day. Hero's Kafe, located in the building, always delivers the best of the best! So we grabbed some yummy breakfast snacks and, of course, coffee to kickstart our day.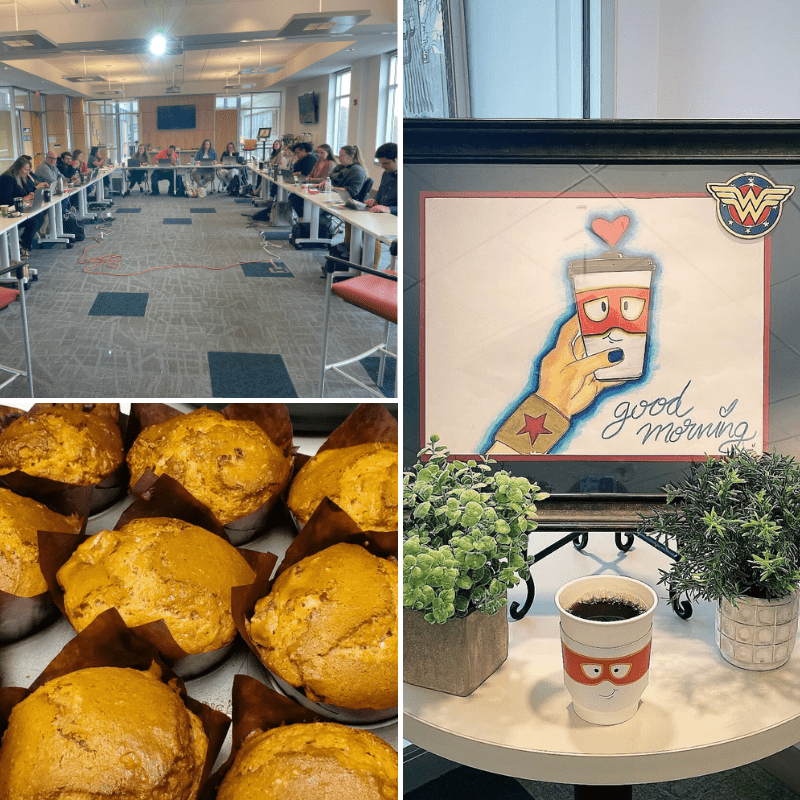 Hero's Kafe to the rescue.
We all grabbed a seat and headed to the food and coffee table! The Kafe decorated the area to brighten our day.
As the crew ate a light breakfast and slurped coffee, we all got caught up. Many talked about how the start of the spring was going for them. Some talked about past get-togethers and trips. A few were even meeting others for the first time!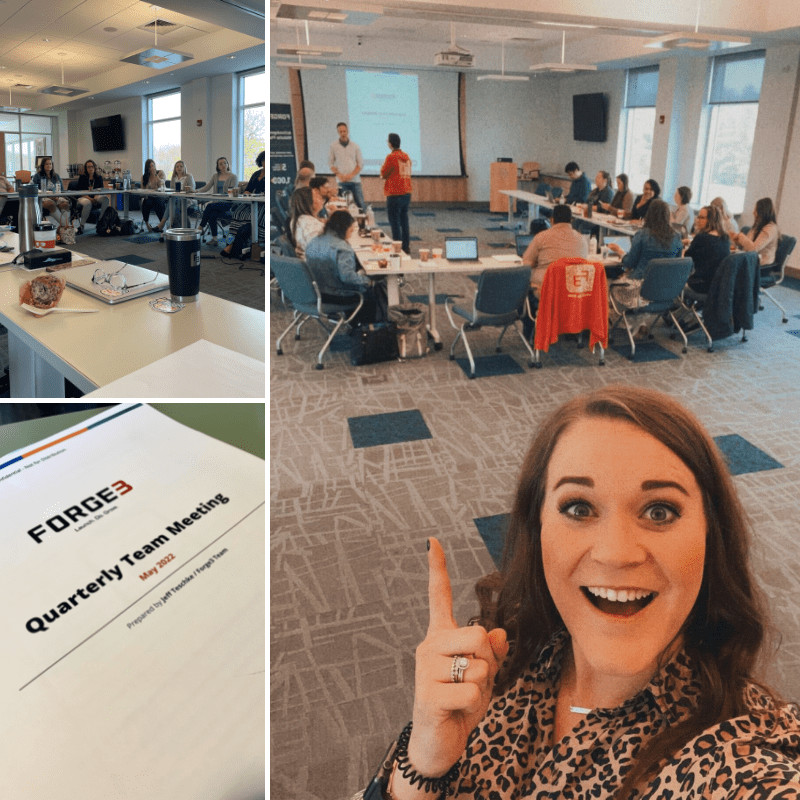 A day to remember.
With breakfast came light conversation. Everyone was so excited to be there and get started for the day!
Putting our heads together.
What better way to kick off the meeting day than with a fun activity? Each team was randomly selected and scurried over to their stations. Justine gave each group masking tape, one large marshmallow, raw spaghetti noodles, and yarn. Using all materials, each team competed to make the highest tower with the marshmallow balanced on top.
Teamwork makes the dream work.
Much easier said than done! Team 4 (Mark, Melissa, Kayla, Alexis) came out with the win!
Breakfast. Coffee. Activity. Now it's time to learn! We were all engaged and learning new things from one agenda item after another. Finally, each department head summarized how things were going this year.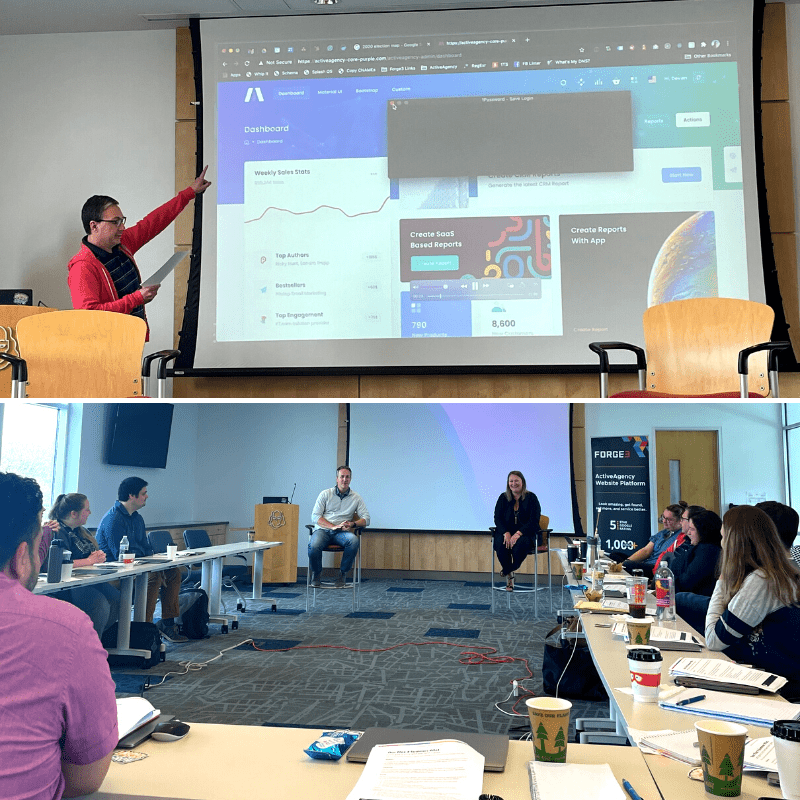 Listening and taking notes.
As we listened, we took notes, asked questions, and provided our comments and opinions. It was a very successful meeting!
All of the new stuff we learned made us hungry! It was time for lunch, and Hero's Kafe was back at it again. A little something for everyone before we got back to an afternoon of meetings.
Grab a plate!
We had sandwiches, chips, empanadas, and salad. Did we mention we love their food?
A happy day to a happy hour.
We put in a full day's work, and then it was time to unwind and head to a local restaurant for happy hour. We ordered appetizers and fun drinks down the table. There were many lively conversations going on with friendships being made and strengthened!
Our mouths were watering.
From pizza to nachos to chicken wings, we sure didn't starve! It turned out to be a great evening.
We spent the final day of the retreat in New Jersey at Top Golf! When we arrived, we were taken to our reserved pods, split up, and watched as they began to set up our lunch.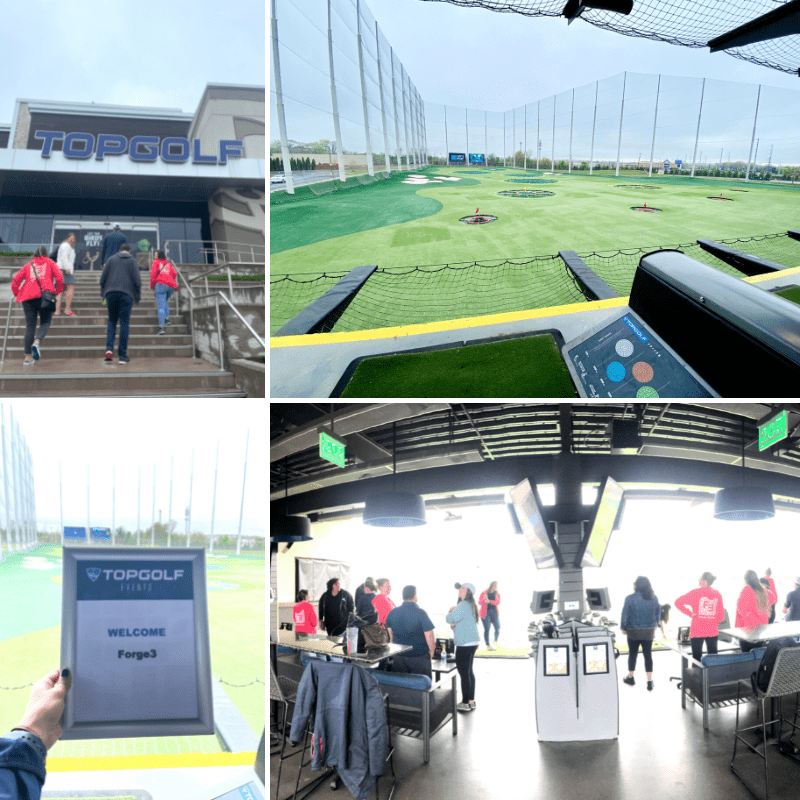 Welcome to the course.
As we got to our reserved pods, we began to check everything out. From the clubs to the technology, and of course, our lunch! We enjoyed every bit of it.
We all split up and became four small teams. Once we got situated, we ordered drinks and listened to the rules of the facility. After we all had been swinging for a while, it was time to start the competition games between each pod that included four rounds.
Let the games begin.
We played trivia, target games, and more! Each person had a different skill level, but everyone had a blast.
At the end of all four rounds, the person from each pod with the best score had to go head-to-head. The goal was to pick a spot in the field where they felt confident they could hit to score points for their entire pod. The pod with the most points at the end would be the ultimate winner!
Can you guess who won? Drum roll, please! Devon and his pod (Rose, Ian, Olivia, Jared)!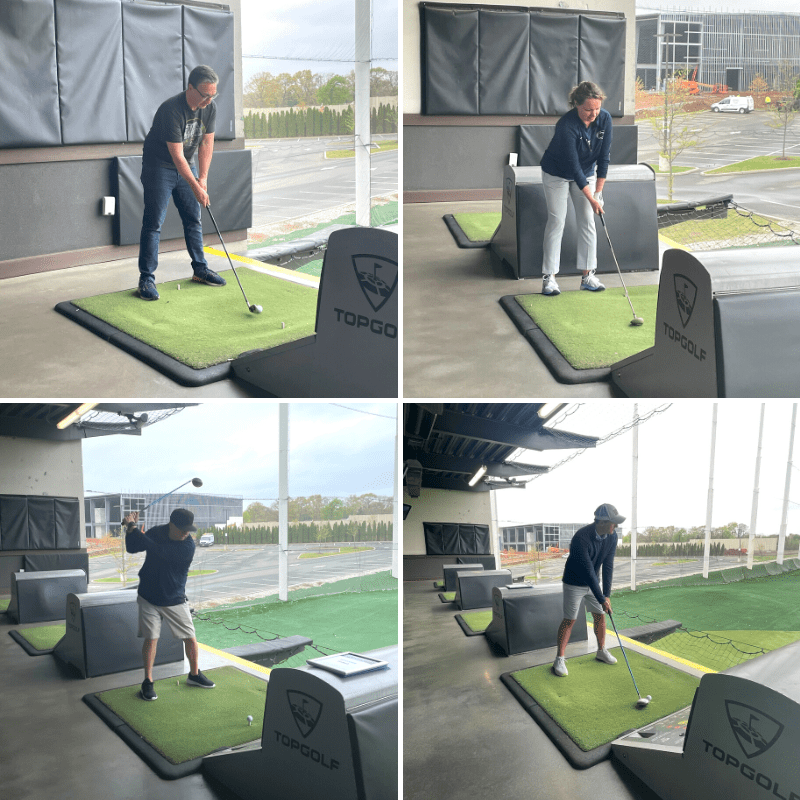 Winner winner, chicken dinner.
Devon, Kassie, Mark, and Jeff competed against each other to see which pod would be the ultimate champion. Congrats to Devon and his team!
After a fun-filled afternoon, it was time to part ways. There were many hugs as we said our goodbyes. On our way home, we reminisced and began to look forward to our next Quarterly Meeting in August.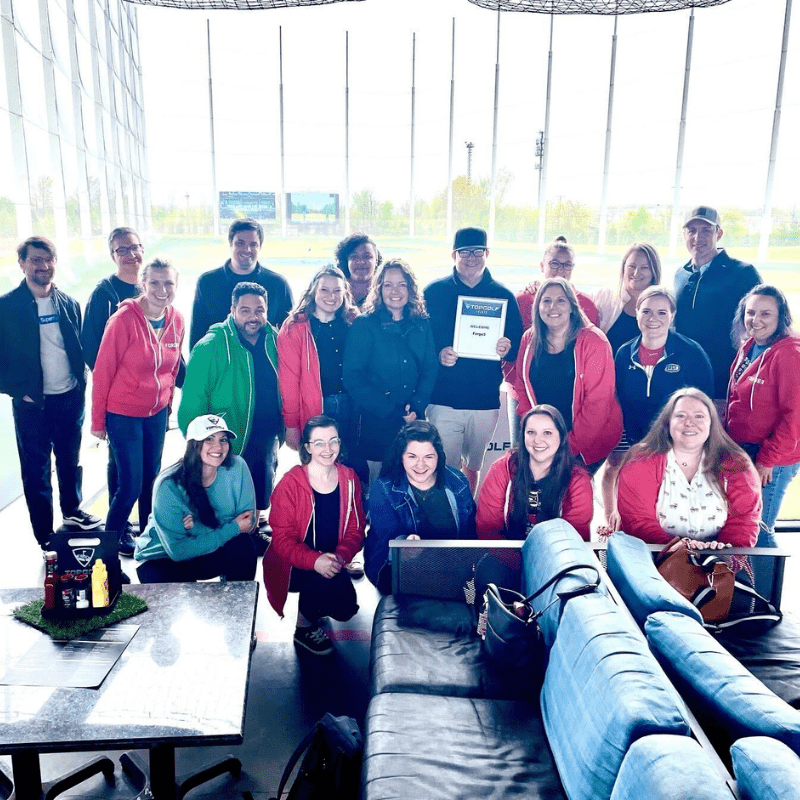 See you next time!
We couldn't end the day without a group photo. It was sad to say goodbye but exciting to look forward to the next retreat.